Top Ten Tuesday was created by The Broke and the Bookish in June of 2010 and was moved to That Artsy Reader Girl in January of 2018. It was born of a love of lists, a love of books, and a desire to bring bookish friends together.
This Week's Topic: Most Recent Additions to My Book Collection
---
Today's top 10 will be nice and quick, just a little look into my buying habits, totally fine… In fairness, I'm cutting down this year. The majority of the ones listed below were actually Christmas presents or bought with Christmas money, this year I have to cut down to save for a house deposit (adult stuff, eek).
I haven't read any of the books below yet, but I'm very excited to get round to them and I'll definitely try my best to have a review up for each, even if it just ends up being a mini-review on Instagram!
My Recent Additions
In order of last to most recent:
The Grandmaster of Demonic Cultivation Volume 1 by Mo Xiang Tong Xiu
Heaven Official's Blessing Volume 1 by Mo Xiang Tong Xiu
Rebel Seoul by Axie Oh
Song of the Forever Rains by E.J. Mellow
Dance of a Burning Sea by E.J. Mellow
The MTXT volumes were sheer peer pressure if I'm honest, but I feel like I'll really like them based off what I've been hearing! Rebel Seoul was an absolute necessity after reading Axie Oh's XOXO and The Girl Beneath the Sea (you can, and most definitely should, preorder or request the latter at your local library). E.J. Mellow's books were on my wishlist thanks to @bookish.reader.elle (I trust Elle's judgements on books a lot at this point).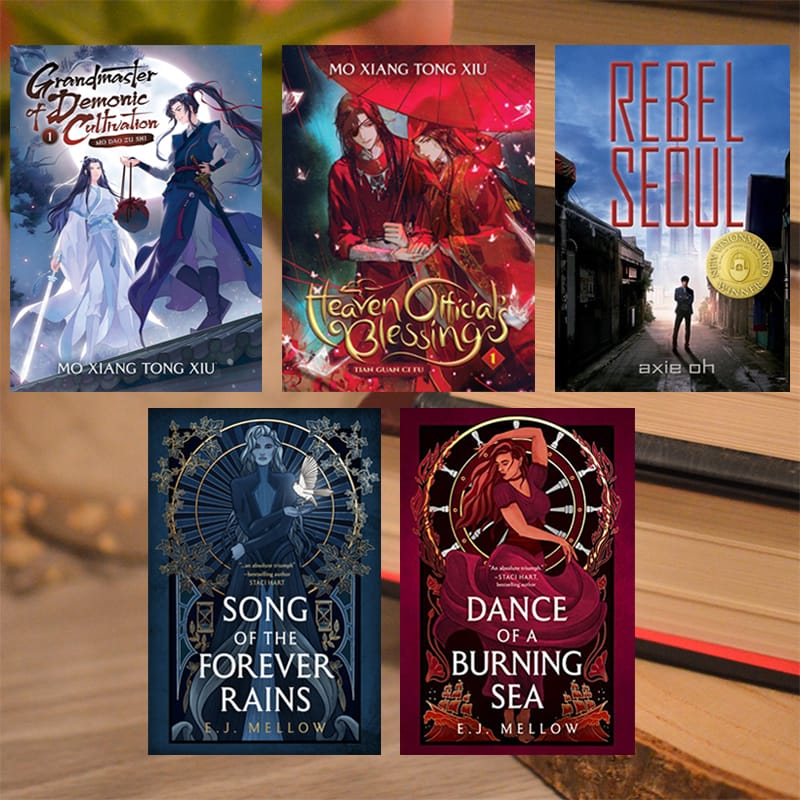 The Scum Villain's Self-Saving System Volume 1 by Mo Xiang Tong Xiu
The Jasmine Project by Meredith Ireland
Chances for Serendipity by Natalie Chung
Jujutsu Kaisen Volume 13 by Gege Akutami
Our Violent Ends by Chloe Gong (FairyLoot Edition)
The Jasmine Project and Chances for Serendipity both look super cute, so I figured they'll be great comfort reads and I'd like to read more cutesy stuff in general! Jujutsu Kaisen is there because I'm collecting all of the manga, since it's one of my favourites! And finally, I can't wait to read Chloe Gong's These Violent Delights but I've been waiting till my preorder of the sequel came in, so super happy about Our Violent Ends arriving!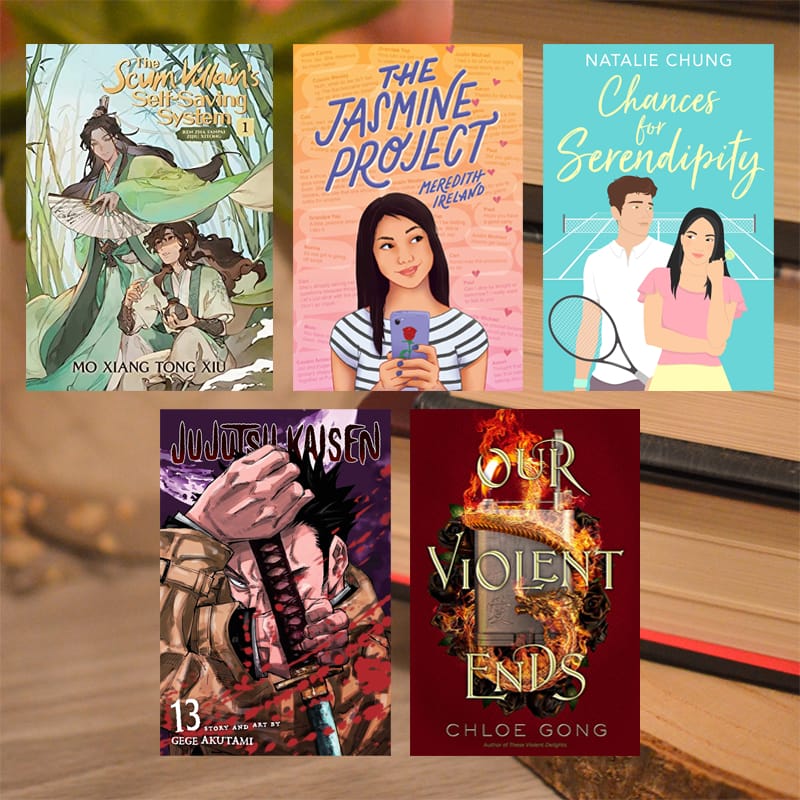 What books have you recently bought lately?

If you enjoy my content please consider supporting me through any of the following:
♥ Ko-Fi — Bloglovin' — Facebook — Instagram — Twitter — Wishlist ♥