Every once in a while, there's a book I'm super excited for but don't get round to actually reading it for a while. Today's review, for Vespertine, is one such book.
I was a huge fan of Margaret Rogerson's previous two stories, An Enchantment of Ravens and Sorcery of Thorns, so I'm not too sure why I held off on reading Vespertine but, nevertheless, I adored this story!
Full review below!
About the Book
Title: Vespertine
Series: Vespertine #1
Author: Margaret Rogerson
Publisher: Simon & Schuster Children's UK
Release Date: October 5th 2021
Pages: 400
Source: eARC from the publisher provided through NetGalley (this in no way affects my review which is honest and unbiased) Physical copies photographed purchased by myself
Rating: ★★★★★
Synopsis
'From the New York Times bestselling author of Sorcery of Thorns and An Enchantment of Ravens comes a thrilling new YA fantasy about a teen girl with mythic abilities who must defend her world against restless spirits of the dead.
The dead of Loraille do not rest.
Artemisia is training to be a Gray Sister, a nun who cleanses the bodies of the deceased so that their souls can pass on; otherwise, they will rise as twisted spirits with a ravenous hunger for the living. She'd rather deal with the dead than the living, who point and whisper about the odd girl who was once possessed by a violent spirit.
When her convent is attacked by possessed soldiers, Artemisia fights back by awakening an ancient spirit bound to a high saint's relic. It is a revenant, a malevolent being now whispering in her head. Wielding its extraordinary power almost consumes her in body and soul. But death has come to Loraille, and only a vespertine, a priestess trained to wield a high relic, has a chance of stopping it. Yet the age of vespertines has passed, their knowledge and training lost with time.
As Artemisia investigates a mystery of saints, secrets, and dark magic, an ancient evil is stirring. Can an untrained girl, tormented by the burden of containing the revenant's devouring power, have any hope of defeating it?'

Review
I should probably start this review off by saying that I adored An Enchantment of Ravens and Sorcery of Thorns from Margaret Rogerson, so I was pretty much expecting to love Vespertine. For some reason, I kept putting off reading it though and I guess I was a little scared it might have been a first book I didn't enjoy, in some ways? I will hold my hands up though and admit it was foolish of me. This was yet another riveting story from Rogerson that grabbed me from the very beginning, with a whole host of lovable characters (more than in the previous books, actually), fantastic mental health representation and a story that will keep you on your toes.
First up, Artemisia. It took me a little while into the story to start to fully appreciate her character but that's due to her past, she suffers from a degree of PTSD and social anxiety, making her start off as very withdrawn. I still liked her character from the beginning, but as time went on I got to understand her more through Rogerson's excellent, heart wrenching writing and by the end of it I just full on loved her! She also has scarred hands due to her past, and Rogerson points out the limitations of these only whilst mentioning the things Artemisia can do very well, which I thought was a lovely way of incorporating this into the story.
Part of how she comes out of her shell is the revenant referenced in the synopsis, the malevolent being basically trapped inside her but really just wanting to possess her and kill lots of people. And, I loved it. It's a sassy, snarky little character and from the minute he came into the story (very early on) everything got so much more fun. Is he the worst thing ever? You'll have to read Vespertine to find that out. But is he powerful enough to kill pretty much everyone in a little town? Abolutely. Fun times.
With the revenant's power, I could save everyone. But if I lost control, I might burn the world to ashes.
Artemisia's closed off personality means that she doesn't really think anyone actually cares about her, except the nun who saved her as a child from a traumatic experience. Part of what makes Vespertine so heartfelt though is her discovering how wrong she'd been, and there are a couple of characters she joins up with along the way that really end up surprising her.
Though she isn't as alone as she thinks, as anyone who has social anxiety knows that doesn't quite make things okay. If crowds make you have a panic attack, you can be with several people you trust and care for but you'll still likely have an attack. And I loved that about Vespertine, it's so honest in how things like social anxiety and PTSD have a power over you that you can't escape, but whenever this happens there's always someone who is considerate enough to make sure that Artemisia has space to breathe and collect herself.
This story ended in a pretty complete way but at the same time there's so much scope for more to happen! Rogerson's worldbuilding is rich, with an entire fantastical history and religion delved into. The first in a series, and I'm pretty sure this is a duology, I'll be picking up the next book as soon as possible.


Photos of FairyLoot's Special Edition of Vespertine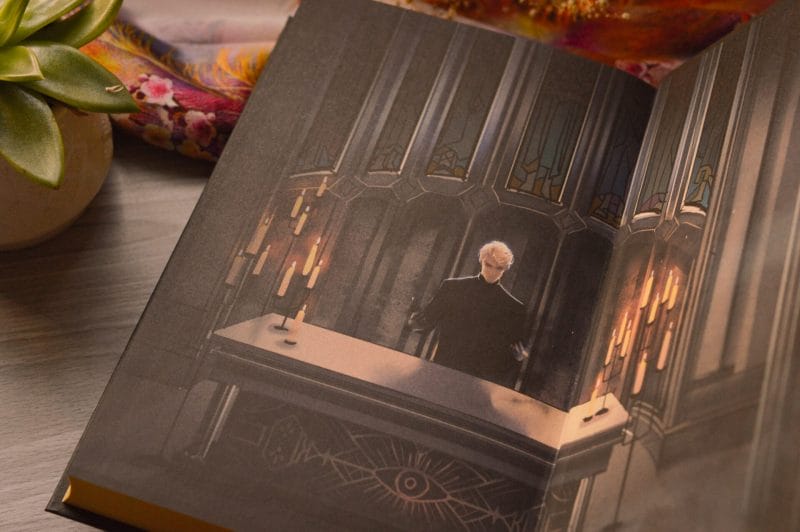 Have you preordered this yet?

If you enjoy my content please consider supporting me through any of the following:
♥ Ko-Fi — Bloglovin' — Facebook — Instagram — Twitter — Wishlist ♥