Hey everyone! It's been a while since I've posted an unboxing here, but today's post is an unboxing I can't wait to share with you.
April 2022 has been pretty fab for UKYA, we had the premiere of Heartstopper on Netflix, which I'm super excited to finally be watching as I write this, and… the first Paper Orange Book Box, a box dedicated to raising awareness of UKYA authors!
Full disclaimer, the lovely Charley who started this box gifted my first one, but I've ordered the May box myself (and she's given me a code that you can grab 10% off the box with! (Scroll to the end if you're after that)
Check out all the items below!
The Book
This month's book was You Can Trust Me by Gina Blaxill, wrapped in a super adorable way! It came with a signed bookplate, matching bookmark and six character cards drawn by Gina herself!
The box also included a card with Gina's backlist of publications and a letter of book recommendations, which some of the other items were based on!
Synopsis
A Good Girl's Guide to Murder meets I May Destroy You, this dark YA thriller will have your heart in your mouth from the very first page! Tragedy hits a teenage New Year's party . . .
When Alana's best friend is found drowned in a pool, the forensic reports discover date-rape drug GHB in her blood. GHB from a drink Alana knows was meant for her. Despite the swirling rumours, the suspected group of boys seem untouchable. To investigate, Alana allows herself to be pulled into their glittering orbit. But among shifting alliances, changing alibis and buried secrets, can she pinpoint which of the boys is responsible before she becomes their next target?
Perfect for fans of Holly Jackson, Karen McManus and Chelsea Pitcher. From the Carnegie nominated author, Gina Blaxill. A bold feminist read with a pacy thriller plot that YA fans will love. Carnegie-nominated author Gina Blaxill looks head on at privilege, bias and sexual assault in a way that will resonate with Young Adults today. Perfect for fans of Holly Jackson, Karen McManus and Chelsea Pitcher.

Author Recommendation Items
Two authors recommended by Gina were Naomi Gibson and Simon James Green. There was a signed postcard included from Naomi and a signed bookplate and matching pin from Simon. I loved these additions and it's such a cute way of raising awareness of other UKYA authors!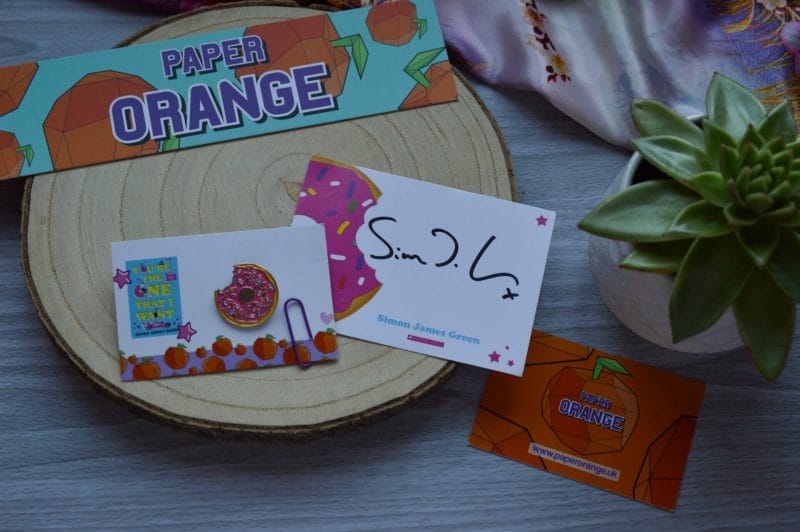 UK Small Business Items
Last, but not least, April's Paper Orange box included items from two small UK small businesses: Punky Pins and Oh, Laura. There was a pin and sticker from Punky Pins and note pads from Oh, Laura. Personally I really like these items, and I try to shop at small businesses as much as I can so I love that Paper Orange included them!

Overall
Okay so many great items? If you're into collecting author signatures, three is a pretty cool start! For a first box, this definitely impressed me (I mean, I subscribed so I think that says it all?) and I'm looking forward to the May box!
(I also have a slight idea at what the book could be for May… and I think it's one I was looking to grab the finished copy of anyway! It's a fantasy book.)

Interested? Here's All You Need!
To grab a subscription of your own (whilst you still can) then head to the Paper Orange website and you can grab 10% off with the following code: LUCHIAH10
It makes the first payment for the subscription only £16.90, which is honestly a steal for a box full of awesome things! After the first month it'll only be £18.40.

Do you subscribe to any book boxes?

If you enjoy my content please consider supporting me through any of the following:
♥ Ko-Fi — Bloglovin' — Facebook — Instagram — Twitter — Wishlist ♥