I've been looking forward to A Magic Steeped In Poison by Judy I. Lin since I first saw the absolutely stunning cover, and I was even more interested after finding out it involved a competition! It was one of the books I listed within my top ten for most anticipated books for the first half of this year.
I really enjoyed this book, and the ENDING DEAR GOD. Honestly, I am extremely relieved that we don't have too long to wait until book two (A Venom Dark and Sweet, due out August 23rd), because the ending had me in dire need of finding out what happens next.
Full review below.
About the Book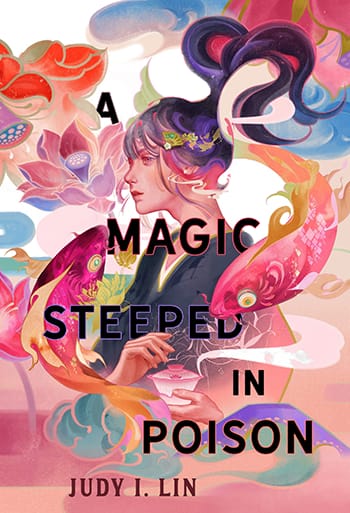 Title: A Magic Steeped In Poison
Series: The Book of Tea #1
Author: Judy I. Lin
Publisher: Feiwel and Friends (US) Titan Books (UK)
Release Date: March 29th 2022 (US) September 6th 2022 (UK)
Pages: 384
Source: US hardcover purchased because I couldn't wait for the UK paperback edition
Rating: ★★★★★
Synopsis
I used to look at my hands with pride. Now all I can think is, "These are the hands that buried my mother."
For Ning, the only thing worse than losing her mother is knowing that it's her own fault. She was the one who unknowingly brewed the poison tea that killed her—the poison tea that now threatens to also take her sister, Shu.
When Ning hears of a competition to find the kingdom's greatest shennong-shi—masters of the ancient and magical art of tea-making—she travels to the imperial city to compete. The winner will receive a favor from the princess, which may be Ning's only chance to save her sister's life.
But between the backstabbing competitors, bloody court politics, and a mysterious (and handsome) boy with a shocking secret, Ning might actually be the one in more danger.

Review
A Magic Steeped In Poison begins with Zhang Ning being at home, planning to take a trip to the shennong-shi competition in the imperial city. Technically, the invite should be taken by her sister, Shu, but she's dreadfully ill after being poisoned with tea. This poison tea is a key part of A Magic Steeped In Poison, as Ning's main mission is to find a way to save her sister. She also wants to find out how it could have happened in the first place. If you like political games in books… you'll really like this part.
The magic itself is tea magic, and there are moments where the shennong-tu (apprentices taking part in the competition) create some beautiful displays of their power, including Ning herself. When Ning enters the competition, she quickly befriends Luo Lian, who is one of the most adorable characters. She's so sweet and trusting towards Ning from the very beginning and, though it takes Ning a while to know she can trust her, they end up having one of the sweetest friendships.
With Ning and Lian both being the sweetest, they quickly make friends with kitchen staff whilst helping in there. It becomes a lovely little found family for Ning and it was really enjoyable whenever the other characters were in scenes with her. It also helps Ning to uncover some things she didn't know about her family before her stay in the palace.
Although found family is a strong element whilst Ning is away from her family, it's clear throughout that her main motivation remains to be Shu, her sister. If you enjoy reading books with strong sister bonds involved then you'll easily appreciate the love between the two in A Magic Steeped In Poison.
'Let the world burn, if Shu can live.'
Relationship-wise, I'm not going to name Ning's love interest… but I will say that I loved his character. There's so much to him and I just hope we see a lot more of him in the next book!
The mysteries within the story had me hooked from the very beginning, and I'm most definitely planning on reading the second book as soon as it arrives. If you enjoy stories with found family, East Asian fantasies and unique magic then this is a book you most definitely should check out!

Are you planning to read this book?

If you enjoy my content please consider supporting me through any of the following:
♥ Ko-Fi — Bloglovin' — Facebook — Instagram — Twitter — Wishlist ♥