A Thousand Steps Into Night by Traci Chee is a book I'd been looking forward to since I first saw about it, and I wasn't let down in the slightest!
This story featured a beautiful Japanese-inspired fantasy world where a girl is cursed by a demon and forced to go on an adventure to try and save her humanity. The story is heartfelt and features elements such as found family. If you loved The Girl Who Fell Beneath the Sea then you 100% have to check it out.
Full review below.
About the Book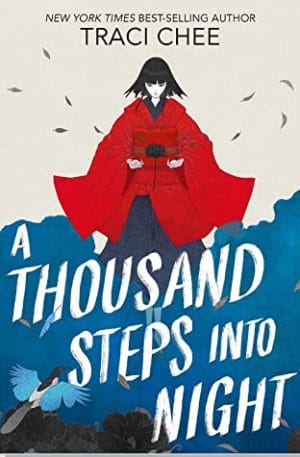 Title: A Thousand Steps Into Night
Author: Traci Chee
Publisher: Clarion Books – Harper360
Release Date: April 19th 2022 (UK)
Pages: 400
Source: Physical ARC gifted from the publisher (this in no way affects my review which is honest and unbiased)
Rating: ★★★★★
Synopsis
From New York Times bestselling author and National Book Award finalist, Traci Chee, comes a Japanese-influenced fantasy brimming with demons, adventure, and plans gone awry.
In the realm of Awara, where gods, monsters, and humans exist side by side, Miuko is an ordinary girl resigned to a safe, if uneventful, existence as an innkeeper's daughter. But when Miuko is cursed and begins to transform into a demon with a deadly touch, she embarks on a quest to reverse the curse and return to her normal life. Aided by a thieving magpie spirit and continuously thwarted by a demon prince, Miuko must outfox tricksters, escape demon hunters, and negotiate with feral gods if she wants to make it home again. But with her transformation comes power and freedom she never even dreamed of, and she'll have to decide if saving her soul is worth trying to cram herself back into an ordinary life that no longer fits her… and perhaps never did.

Review
I really love it when I'm excited about a book and then, when I get to read it, it ends up being all I hoped for and then some. That was my experience with A Thousand Steps Into Night. I was already super excited to read it, but when I saw @artfromafriend on Twitter tweet this, that was it. Super psyched because Princess Mononoke is one of my top three Ghibli loves.
So, I went into this book fully hyped and wasn't disappointed in the slightest. First things first, the Mononoke vibes are strong! A girl slowly becoming a demon, with hate being a very strong theme throughout. Added to that, the ending is actually so wholesome it'll leave you sighing. Although The Girl Who Fell Beneath the Sea is based on a Korean folk tale, it has similar vibes to A Thousand Steps Into Night. I think if you loved one then you'd love the other!
Back to A Thousand Steps Into Night, we start in the main character Miuko's village, and the story is told in the third-person past tense. We're told in very certain tones by the narrator that she is a very plain girl, but also pretty loud. She lives with her father after her mother caused a scandal by riding away, in a fantasy world where women are not allowed to be more than their traditional roles.
But, Miuko starts to see how wrong this is on her journey. She realises there is so much more to her and that she can be more if society would let her. Without a doubt that was my favourite part, watching her go from an "unremarkable girl" to more, but it isn't without her going through a huge array of struggles throughout.
First up, the worst-case scenario happens and she's cursed by a demon. She's quickly shunned by the village, even by her caring father, and sets off on a mission to become human again.
I loved the way the curse worked, it was a very visual one on the whole and very reminiscent of the curse in Princess Mononoke (possibly why I enjoyed it so much), but it added that element of it being more and more obvious to others what Miuko was becoming and raised the stakes a little higher.
If she were a monster, she would at last be free.
I can't write this review without mentioning Geiki, a mischievous magpie spirit who acts like an adopted little brother to Miuko. I genuinely adored his character and if you like found family then he and a couple of other characters make that an excellent, beautiful part of the story! And I adored how he could turn into a magpie too, it made for some quite funny moments in a story that is otherwise filled with quite a lot of sadness throughout.
Miuko is aided on her quest by Geiki, and they act like brother and sister for most of the story. They don't really have much of a plan and so things don't always go right for them, but the story is filled to the brim with events that hold your attention as you just hope Miuko can get the help she needs to turn back into a human.
As this is a standalone, if I had anything bad to say it would simply be that I would love for more stories from this world! But it has a brilliant start, middle and end, I'm just being greedy there.

Are you planning to read this book?

If you enjoy my content please consider supporting me through any of the following:
♥ Ko-Fi — Bloglovin' — Facebook — Instagram — Twitter — Wishlist ♥