If you're looking for a story to fall completely in love with and find yourself wanting to read it as often as possible, especially if The Cruel Prince was a book you loved, then Violet Made of Thorns will, undoubtedly, be the right story for you.
Read on for my full review!
About the Book
Title: Violet Made of Thorns
Series: Violet Made of Thorns #1
Author: Gina Chen
Publisher: Hodder & Stoughton
Release Date: July 26th 2022
Pages: 368
Source: Early finished copy provided by the publisher (this in no way affects my review which is honest and unbiased) I'm planning on picking up as many editions as I can!
Rating: ★★★★★★★★★★
Synopsis
A darkly enchanting fantasy debut about a morally gray witch, a cursed prince, and a prophecy that ignites their fate-twisted destinies—perfect for fans of The Cruel Prince and Serpent & Dove.
Violet is a prophet and a liar, influencing the royal court with her cleverly phrased—and not always true—divinations. Honesty is for suckers, like the oh-so-not charming Prince Cyrus, who plans to strip Violet of her official role once he's crowned at the end of the summer—unless Violet does something about it.
But when the king asks her to falsely prophesy Cyrus's love story for an upcoming ball, Violet awakens a dreaded curse, one that will end in either damnation or salvation for the kingdom—all depending on the prince's choice of future bride. Violet faces her own choice: Seize an opportunity to gain control of her own destiny, no matter the cost, or give in to the ill-fated attraction that's growing between her and Cyrus.
Violet's wits may protect her in the cutthroat court, but they can't change her fate. And as the boundary between hatred and love grows ever thinner with the prince, Violet must untangle a wicked web of deceit in order to save herself and the kingdom—or doom them all.
Review
Violet Made of Thorns is a story I'd been looking forward to reading since before the UK publisher had even been announced. Morally grey characters with hate/love romance and fairytale vibes? Of course I was hooked on that idea! And Gina Chen delivers this 100%.
Our main character, Violet, is a morally grey witch who can see the future. Once an orphan who is just trying to survive, she was able to foresee a future where the Prince is killed, leading her to save him and gain a position in the palace due to her innate powers. 
Prince Cyrus grows apart from her the longer she's in the palace, he can't stand the person she becomes as she happily lies for the king to keep her position as his Seer. Cyrus' main issue is her ambition that drives her to do this… but that ambitious streak had been there since she planned to save him because she knew he looked important. 
The only people who are nice are those who have never had to claw for anything they've wanted.
I loved Violet's attitude throughout, she's very realistic around the world around her and understands that the world is run by wolves. Cyrus, in stark contrast, is a boy prophesied by a former Seer to bring ruin and yet he's an optimistic ray of sunshine who only wants peace…well, peace and Violet. Or sometimes he just wants Violet gone. He's understandably confused about wanting a forbidden love who has come to represent all he dislikes about the court. If you enjoyed the romance in The Cruel Prince, just go and preorder this book right now because you won't be disappointed at all. 
If you enjoy fairytale stories or royal court set stories, you'll really enjoy this book. If you enjoy both, you'll likely fall in love with the world like I did. 
The story is told from Violet's point of view, so we get extremely sassy descriptions of members of the court and those who comment on the court gossip and scandals. Overall, Violet is headstrong and not afraid to dance around things to achieve things for herself. Some of the things she had the guts to say had me almost cheering for her, and although she's unrelatable in the sense of being more of an antiheroine rather than a typical either sweet or courageous main character in a fairytale… I genuinely would love to be more like Violet. She comes across as sassy and confident and I loved seeing that! 
Maybe cruel is the best thing I can be.
Other notable characters, who I enjoyed so much I'd happily read more about them in a side story, are Camilla (Cyrus' female twin) and Dante (Cyrus and Violet's close friend from another land). Camilla is another character who goes against the typical portrayal of royalty, her main interest lies in who she can lie with and she's a hilarious character. Also, she's one of my favourite sapphic Princesses now. And a special mention to her cat, who is a character in itself and has one of the best cat names I've ever read. Dante is… a busy scholar. His reactions throughout to Cyrus and Violet are mostly similar to that of an exasperated parent.
In terms of content, there is a little spice (helping to add to the existing romance subplot) and a couple of scenes during which the main character intentionally cuts herself (for magical purposes).
I think this story is the start of duology, and honestly I just hope we get treated to even more than just one more book in this world because Chen has created an enchanting world with a well of magic and an array of amazing characters, it's hard to believe that this is a debut.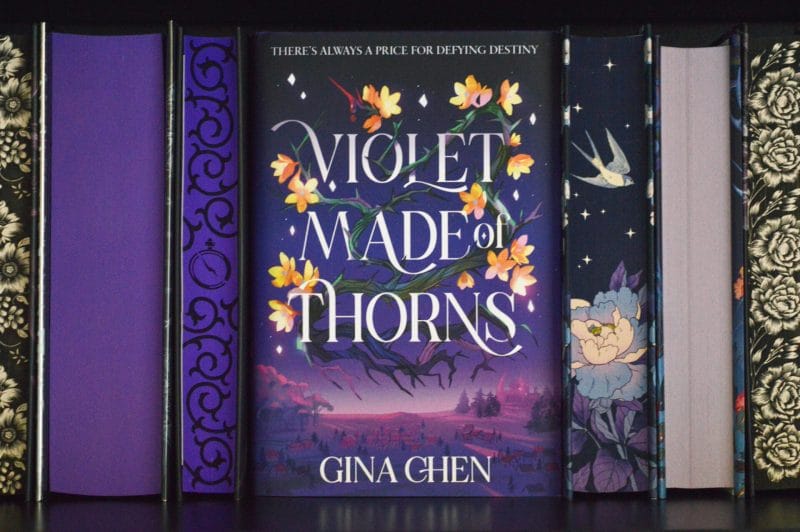 Will you be preordering this?

If you enjoy my content please consider supporting me through any of the following:
♥ Ko-Fi — Bloglovin' — Facebook — Instagram — Twitter — Wishlist ♥