Strike the Zither is a book I've been looking forward to since first hearing that Joan He was writing another book, I really enjoyed The Ones We're Meant to Find and I'd had Descendant of the Crane on my TBR since its release… Honestly, reading Strike the Zither has basically put DOTC as high up on my TBR as possible because I ADORED Strike the Zither, it's easily one of my top 10 reads of this year and a new favourite.
TLDR; Strike the Zither is amazing and y'all wanna go preorder it right now, but read on for my full review!
About the Book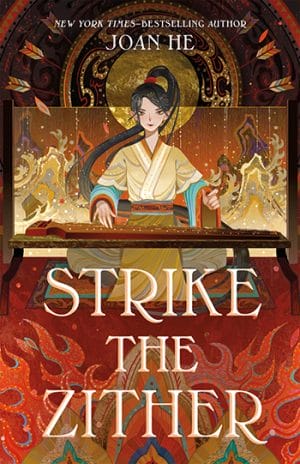 Title: Strike the Zither
Series: Kingdom of Three #1
Author: Joan He
Publisher: Text Publishing
Release Date: November 1st 2022
Pages: 368
Source: eARC gifted by the publisher, and I've preordered a personalised copy after falling in love with it.
Rating: ★★★★★★★★★★
Synopsis
A dazzling new fantasy from New York Times and Indie bestselling author Joan He, Strike the Zither is a powerful, inventive, and sweeping fantasy that reimagines the Chinese classic tale of the Three Kingdoms.

The year is 414 of the Xin Dynasty, and chaos abounds. A puppet empress is on the throne. The realm has fractured into three factions and three warlordesses hoping to claim the continent for themselves.
But Zephyr knows it's no contest.
Orphaned at a young age, Zephyr took control of her fate by becoming the best strategist of the land and serving under Xin Ren, a warlordess whose loyalty to the empress is double-edged—while Ren's honor draws Zephyr to her cause, it also jeopardizes their survival in a war where one must betray or be betrayed. When Zephyr is forced to infiltrate an enemy camp to keep Ren's followers from being slaughtered, she encounters the enigmatic Crow, an opposing strategist who is finally her match. But there are more enemies than one—and not all of them are human.
Review
Okay so, first up… obviously the synopsis speaks for itself and Strike the Zither sounds awesome from it; however, it still doesn't actually capture how great this story is.
We're introduced immediately to Zephyr, the main character who is simultaneously one of the most arrogant characters and one of the most endearing characters ever. She's very sure of herself, and we're thrown straight into her being trapped in a situation that she has to save herself, and a bunch of common folk and soldiers. As a strategist, it's her job to basically come up with ideas like this and hope that they work out (which, Zephyr would probably say, they always do). Even though she sometimes has to think quick on her feet, she never really doubts her capabilities throughout the story and I think that's part of why I enjoyed her character so much, I envy that kind of confidence!
Zephyr ends up in the enemy wardlordess' (Miasma's) camp, in an attempt to aid the warlordess she believes in, Xin Ren. There's a lot of things that Zephyr can predict to have to account for, but one thing she doesn't know how to prepare for is meeting the enemy strategist, Crow.
There's a little yearning between the two and a lot of mistrust, but it makes for a very entertaining match up whenever the two are in the same scenes.
Joan He has written a book that most just won't be able to put down, and though I refuse to give any spoilers, about halfway in you'll probably be in shock for a few minutes and need to recover before you can read on because there are a couple of twists to this story, making it change direction from a wuxia to a xianxia as well and SUCH an awesome one at that.
The story is told from first person, which is brilliant for seeing more of how Zephyr's mind actually works whilst ensuring that we're treated to as many comments as possible about those around her!
I had a little sneak peak at some of the illustrations of the characters at the start of the eARC too, but due to formatting they got a little bit jumbled up. BUT Joan shared a proper sneak peak here, and what can be better than a book with an awesome story, beautiful cover and even gorgeous illustrations inside?!
If you enjoy fantasy stories in general, preorder this book, and you can still grab a personalised copy from Books of Wonder (I absolutely had to do that after enjoying the book so much)!
Have you preordered this?

If you enjoy my content please consider supporting me through any of the following:
♥ Ko-Fi — Bloglovin' — Facebook — Instagram — Twitter — Wishlist ♥