Today's review is for one of my most anticipated releases for the first part of the year, and I wasn't wrong to be excited for it! I finished reading this book as an eARC late on Sunday night and the ending just amazed me so much, I knew I'd be needing a finished copy and to grab the next as soon as possible!
It kind of feels like my mind was read a little, because literally the next day an early finished copy arrived in the post! (All the thank yous to Kate from Hodder & Stoughton, it was a beautiful surprise ♥️)
Castles in Their Bones is the start of a new trilogy from Laura Sebastian, author of the Ash Princess trilogy. For a very old (please don't judge me on it) review of that first book, you can find it here. Now I really did enjoy Ash Princess, but with Castles in Their Bones it's easy to see Laura's growth as a writer and the story was so intriguing from start to finish, it's an excellent start to a new series that I can't wait to read more of!
Full review below! (Alongside photos of the gorgeous inside elements of the finished copy… including the beautiful map.)
About the Book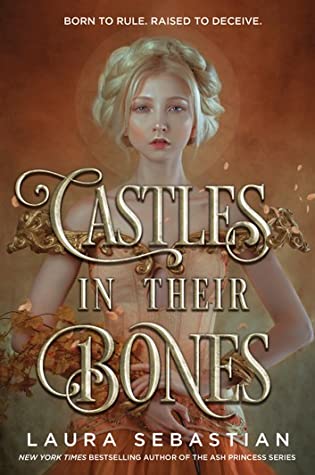 Title: Castles in Their Bones
Series: Castles in Their Bones #1
Author: Laura Sebastian
Publisher: Hodder & Stoughton
Release Date: February 1st 2022
Pages: 528
Source: eARC provided by the publisher through NetGalley and finished early copy gifted by the publisher (this in no way affects my review which is honest and unbiased)
Rating: ★★★★★
Synopsis
'A spellbinding story of three princesses and the destiny they were born for: seduction, conquest, and the crown. Immerse yourself in the first book in a new fantasy trilogy from the author of the New York Times bestselling Ash Princess series.
Empress Margaraux has had plans for her daughters since the day they were born. Princesses Sophronia, Daphne, and Beatriz will be queens. And now, age sixteen, they each must leave their homeland and marry their princes.
Beautiful, smart, and demure, the triplets appear to be the perfect brides—because Margaraux knows there is one common truth: everyone underestimates a girl. Which is a grave mistake. Sophronia, Daphne, and Beatriz are no innocents. They have been trained since birth in the arts of deception, seduction, and violence with a singular goal—to bring down monarchies— and their marriages are merely the first stage of their mother's grand vision: to one day reign over the entire continent of Vesteria.
The princesses have spent their lives preparing, and now they are ready, each with her own secret skill, and each with a single wish, pulled from the stars. Only, the stars have their own plans—and their mother hasn't told them all of hers.
Life abroad is a test. Will their loyalties stay true? Or will they learn that they can't trust anyone—not even each other?'

Review
Castles in Their Bones is set in an original fantasy land, filled with lies, deceit and people who are desperate to have more and more power. On the other hand, it's also magical and beautiful in the sense that those with abilities are able to make wishes using the stars.
We're quickly introduced to our three main characters, triplets Daphne, Beatriz and Sophronia (Sophie), and the story is told from their alternating viewpoints in third person. Sometimes I do struggle with this, but I found that their personalities and overall mannerisms were so well-written that I could leave the story half-way through a chapter and quickly realise who it was focused on when I went back to it.
Daphne has been raised to be her mother's daughter, all she wants is to help the Empress to conquer neighbouring lands through her mother's elaborate scheme, which she started to plan before her daughters were even born. Smart and cunning, she's experienced at archery and thing like making poisons, perfectly acceptable hobbies for a princess, of course.
Beatriz likes to break the rules and go against their mother as much as possible, she's been raised as 'the pretty one' to use her looks first and foremost to sway men. Her charms have been honed through many lessons with courtesans, including flirting and disguises. I really liked her character, she's just so confident of herself for the most part! But we also get to see her insecurities at the same time.
Sophie, is adorable. She's the only sister who had been hopelessly falling for her chosen Prince (though he's a King by the time she meets and marries him at 16). Her skills are mainly to do with forgeries and her sweet disposition is seen as a failure to her cold-hearted mother.
All three sisters are excellent examples of characters being morally grey. They believe that they're doing what's best for their country, albeit after being slightly brainwashed… well, very brainwashed. As a result they'll lie and do whatever it takes. But there's so much more to them at the same time.
We're told a lot about the Empress throughout this first book, with a large focus on how she raised the triplets through lessons on how to basically become agents of her plan from as soon as possible. There are no kind words spoken, aside from Daphne who can't help but admire what her mother is doing. Although Daphne is essentially seen as the smartest of the three, her loyalty to her mother almost has her blind to anything else.
The Empress continues to work behind the scenes on her plans whilst each daughter has been whisked away to separate countries, with the focus staying on the girls and their circumstances throughout.
But will each girl stick to their plan? Will they be the weapons they've been brought up to be, or will they adapt in the freedom from their mother and start to become their own person, with their own dreams?
Those are the kinds of things you'll be wondering throughout, and you won't want to put this book down until you have the answers. I'll admit I generally take forever to read a book longer than around 400 pages, but when I was reading this on a Kindle I didn't even realise it was so long (528 pages) since I just flew through the story. And the finished copy is so beautiful! Not only is the front cover itself gorgeous, but there's a beautiful map inside along with family trees for Vesteria, it's definitely one that will be beautiful in anyone's collection.
One warning though, the ending to the book will leave you desperate for book two.
'One cannot be soft and wear a crown… Or one will be crushed beneath its weight.'

Are you planning on preordering this?

If you enjoy my content please consider supporting me through any of the following:
♥ Ko-Fi — Bloglovin' — Facebook — Instagram — Twitter — Wishlist ♥