Top Ten Tuesday was created by The Broke and the Bookish in June of 2010 and was moved to That Artsy Reader Girl in January of 2018. It was born of a love of lists, a love of books, and a desire to bring bookish friends together.
This Week's Topic: 2021 Releases I Was Excited to Read But Didn't Get To
---
Well, last year wasn't too bad when it came to reading… but I think my taste in books kind of changed throughout the year, alongside the fact I kept finding more new books, such as Jade Fire Gold and These Hollow Vows, that I wanted to read ASAP!
There were a few on my most anticipated 2021 releases list that I didn't actually manage to get round to, and although I would still like to get round those at some point the focus on this list will be ones I found throughout the year.
Clash of Steel by C. B. Lee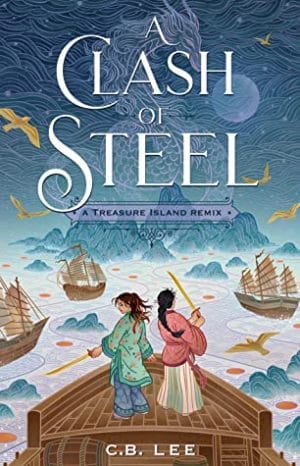 Two intrepid girls hunt for a legendary treasure on the deadly high seas in this YA remix of the classic adventure novel Treasure Island.
1826. The sun is setting on the golden age of piracy, and the legendary Dragon Fleet, the scourge of the South China Sea, is no more. Its ruthless leader, a woman known only as the Head of the Dragon, is now only a story, like the ones Xiang has grown up with all her life. She desperately wants to prove her worth, especially to her mother, a shrewd businesswoman who never seems to have enough time for Xiang. Her father is also only a story, dead at sea before Xiang was born. Her single memento of him is a pendant she always wears, a simple but plain piece of gold jewelry.
But the pendant's true nature is revealed when a mysterious girl named Anh steals it, only to return it to Xiang in exchange for her help in decoding the tiny map scroll hidden inside. The revelation that Xiang's father sailed with the Dragon Fleet and tucked away this secret changes everything. Rumor has it that the legendary Head of the Dragon had one last treasure—the plunder of a thousand ports—that for decades has only been a myth, a fool's journey.
Xiang is convinced this map could lead to the fabled treasure. Captivated with the thrill of adventure, she joins Anh and her motley crew off in pursuit of the island. But the girls soon find that the sea—and especially those who sail it—are far more dangerous than the legends led them to believe. 

You've Reached Sam by Dustin Thao
Seventeen-year-old Julie has her future all planned out—move out of her small town with her boyfriend Sam, attend college in the city, spend a summer in Japan. But then Sam dies. And everything changes.
Heartbroken, Julie skips his funeral, throws out his things, and tries everything to forget him and the tragic way he died. But a message Sam left behind in her yearbook forces back memories. Desperate to hear his voice one more time, Julie calls Sam's cellphone just to listen to his voicemail.
And Sam picks up the phone.
In a miraculous turn of events, Julie's been given a second chance at goodbye. The connection is temporary. But hearing Sam's voice makes her fall for him all over again, and with each call it becomes harder to let him go. However, keeping her otherworldly calls with Sam a secret isn't easy, especially when Julie witnesses the suffering Sam's family is going through. Unable to stand by the sidelines and watch their shared loved ones in pain, Julie is torn between spilling the truth about her calls with Sam and risking their connection and losing him forever.
(Side note, I actually did start trying to read this book, but I cried too much. Saving it for when I'm more emotionally stable)
 Black Water Sister by Zen Cho
This mischievous Malaysian-set novel is an adventure featuring family, ghosts and local gods – from Hugo Award winning novelist Zen Cho.
HER GRANDMOTHER MAY BE DEAD
BUT SHE'S NOT DONE WITH LIFE . . . YET
As Jessamyn packs for Malaysia, it's not a good time to start hearing a bossy voice in her head. Broke, jobless and just graduated, she's abandoning America to return 'home'. But she last saw Malaysia as a toddler – and is completely unprepared for its ghosts, gods and her eccentric family's shenanigans.
Jess soon learns her 'voice' belongs to Ah Ma, her late grandmother. She worshipped the Black Water Sister, a local deity. And when a business magnate dared to offend her goddess, Ah Ma swore revenge. Now she's decided Jess will help, whether she wants to or not.
As Ah Ma blackmails Jess into compliance, Jess fights to retain control. But her irrepressible relative isn't going to let a little thing like death stop her, when she can simply borrow Jess's body to make mischief. As Jess is drawn ever deeper into a world of peril and family secrets, getting a job becomes the least of her worries.
Sisters of the Snake by Sarena & Sasha Nanua
A lost princess. A dark puppet master. And a race against time—before all is lost.
Princess Rani longs for a chance to escape her gilded cage and prove herself. Ria is a street urchin, stealing just to keep herself alive.
When these two lives collide, everything turns on its head: because Ria and Rani, orphan and royal, are unmistakably identical.
A deal is struck to switch places—but danger lurks in both worlds, and to save their home, thief and princess must work together. Or watch it all fall into ruin.
Deadly magic, hidden temples, and dark prophecies: Sisters of the Snake is an action-packed, immersive fantasy that will thrill fans of The Crown's Game and The Tiger at Midnight.
Witches Steeped in Gold by Ciannon Smart
Divided by their order. United by their vengeance.
Iraya has spent her life in a cell, but every day brings her closer to freedom – and vengeance.
Jazmyne is the Queen's daughter, but unlike her sister before her, she has no intention of dying to strengthen her mother's power.
Sworn enemies, these two witches enter a precarious alliance to take down a mutual threat. But power is intoxicating, revenge is a bloody pursuit, and nothing is certain – except the lengths they will go to win this game.
This Jamaican-inspired fantasy debut about two enemy witches who must enter into a deadly alliance to take down a common enemy has the twisted cat-and-mouse of Killing Eve with the richly imagined fantasy world of Furyborn and Ember in the Ashes.
Gearbreakers by Zoe Hana Mikuta
Two girls on opposite sides of a war discover they're fighting for a common purpose–and falling for each other–in Zoe Hana Mikuta's high-octane debut Gearbreakers, perfect for fans of Pacific Rim, Pierce Brown's Red Rising Saga, and Marie Lu's Legend series.
We went past praying to deities and started to build them instead...
The shadow of Godolia's tyrannical rule is spreading, aided by their giant mechanized weapons known as Windups. War and oppression are everyday constants for the people of the Badlands, who live under the thumb of their cruel Godolia overlords.
Eris Shindanai is a Gearbreaker, a brash young rebel who specializes in taking down Windups from the inside. When one of her missions goes awry and she finds herself in a Godolia prison, Eris meets Sona Steelcrest, a cybernetically enhanced Windup pilot. At first Eris sees Sona as her mortal enemy, but Sona has a secret: She has intentionally infiltrated the Windup program to destroy Godolia from within.
As the clock ticks down to their deadliest mission yet, a direct attack to end Godolia's reign once and for all, Eris and Sona grow closer–as comrades, friends, and perhaps something more…
Dreams Lie Beneath by Rebecca Ross
Perfect for readers of The Hazel Wood and The Night Circus, this lush and layered story about magic and the captivating power of dreams is delivered with acclaimed author Rebecca Ross's signature exquisite style.
A curse plagues the realm of Azenor—during each new moon, magic flows from the nearby mountain and brings nightmares to life. Only magicians, who serve as territory wardens, stand between people and their worst dreams.
Clementine Madigan is ready to take over as the warden of her small town, but when two magicians challenge her, she is unwittingly drawn into a century-old conflict. She seeks revenge, but as she secretly gets closer to Phelan, one of the handsome young magicians, secrets begin to rise. Clementine must unite with her rival to fight the realm's curse, which seems to be haunting her every turn.
Year of the Reaper by Makiia Lucier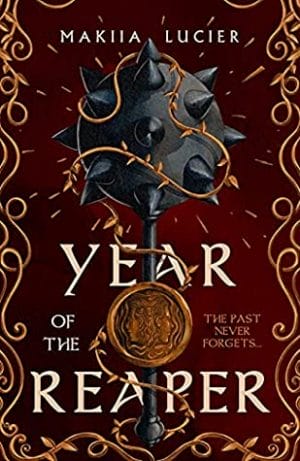 The past never forgets . . .
Before an ambush by enemy soldiers, Lord Cassia was an engineer's apprentice on a mission entrusted by the king. But when plague sweeps over the land, leaving countless dead and devastating the kingdom, even Cas' title cannot save him from a rotting prison cell and a merciless sickness.
Three years later, Cas wants only to return to his home in the mountains and forget past horrors. But home is not what he remembers. His castle has become a refuge for the royal court. And they have brought their enemies with them.
When an assassin targets those closest to the queen, Cas is drawn into a search for a killer…one that leads him to form an unexpected bond with a brilliant young historian named Lena. Cas and Lena soon realize that who is behind the attacks is far less important than why. They must look to the past, following the trail of a terrible secret—one that could threaten the kingdom's newfound peace and plunge it back into war.
A Master of Djinn by P. Djèlí Clark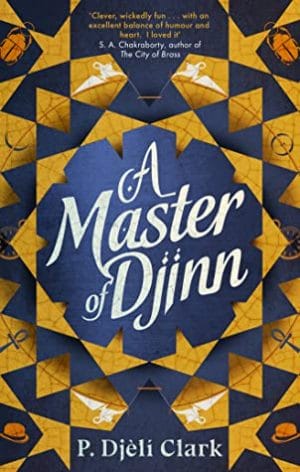 Nebula, Locus, and Alex Award-winner P. Djèlí Clark returns to his popular alternate Cairo universe for his fantasy novel debut, A Master of Djinn
Cairo, 1912: Though Fatma el-Sha'arawi is the youngest woman working for the Ministry of Alchemy, Enchantments and Supernatural Entities, she's certainly not a rookie, especially after preventing the destruction of the universe last summer.
So when someone murders a secret brotherhood dedicated to one of the most famous men in history, al-Jahiz, Agent Fatma is called onto the case. Al-Jahiz transformed the world 50 years ago when he opened up the veil between the magical and mundane realms, before vanishing into the unknown. This murderer claims to be al-Jahiz, returned to condemn the modern age for its social oppressions. His dangerous magical abilities instigate unrest in the streets of Cairo that threaten to spill over onto the global stage.
Alongside her Ministry colleagues and her clever girlfriend Siti, Agent Fatma must unravel the mystery behind this imposter to restore peace to the city – or face the possibility he could be exactly who he seems….
Far From the Light of Heaven by Tade Thompson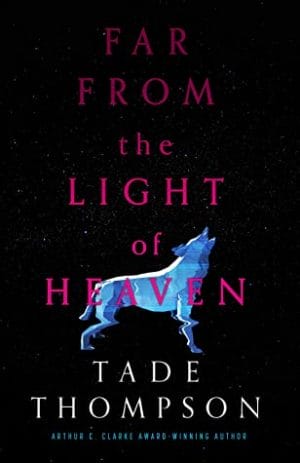 The colony ship Ragtime docks in the Lagos system, having traveled light-years to bring one thousand sleeping souls to a new home among the stars. But when first mate Michelle Campion rouses, she discovers some of the sleepers will never wake.
Answering Campion's distress call, investigator Rasheed Fin is tasked with finding out who is responsible for these deaths. Soon a sinister mystery unfolds aboard the gigantic vessel, one that will have repercussions for the entire system—from the scheming politicians of Lagos station, to the colony planet Bloodroot, to other far-flung systems, and indeed to Earth itself.
What's a 2021 release you'd like to catch up on?

If you enjoy my content please consider supporting me through any of the following:
♥ Ko-Fi — Bloglovin' — Facebook — Instagram — Twitter — Wishlist ♥