When it comes to stories, I'm truly a sucker for anything dark with sassy characters, with magic systems being an additional bonus. So, when I saw The Witch and the Beast the synopsis basically ticked pretty much every box for me, and I requested it as soon as I could on NetGalley.
The manga didn't disappoint at all and was brimming with cool scenes and beautiful artwork from start to finish, definitely one I'll be grabbing as a physical copy and keeping up with!
Read on for my full review.
About the Manga
Title: The Witch and the Beast
Volume: 1
Mangaka: Kousuke Satake
Publisher: Kodansha Comics
Release Date: 27th October 2020
Pages: 192
Source: e-ARC provided by the publisher through Netgalley (this in no way affects my review which is honest and unbiased)
Rating: ★★★★★
Synopsis
'Dive into Kousuke Satake's suave and explosive manga debut, about powerful women good and evil, featuring a story of vengeance in a stylish, art-deco urban wonderland that's one part Fullmetal Alchemist and one part Cowboy Bebop.
Ashaf: a soft-spoken man with delicate features, a coffin strapped to his back, and an entourage of black crows. Guideau: a feral, violent girl with long fangs and the eyes of a beast. This ominous pair appear one day in a town in thrall to a witch — a ruler with magic coursing through her tattooed body, who has convinced the townsfolk she's their hero. But Ashaf and Guideau know better. They live by one creed: "Wherever a witch goes, only curses and disasters follow." They have scores to settle, and they won't hesitate to remove anyone in their way, be it angry mob or army garrison.
A dark fairytale set in a steampunk world of magic and monsters, The Witch and the Beast will entice and entrap manga readers looking for their next fantasy action fix!'
Review
From the very first pages of The Witch and the Beast, the thing that stands out the most is by far the gorgeous artwork. The first couple of pages are in glorious colour, which you can see for yourself on Kodansha's website here. Without the colour though the detail is so great that you can't help but stare at the images. The example to the right was one of the first pages that made me 'wow' out loud – look at the crazy detail right down to the monsters rows of teeth! The example later on in this post is just as impressive, you can see depth right down to some of the smallest of petals.
These are both from our main characters' first encounter with a witch, and it's an action-packed ride to get you invested in their story.
So, we have Ashaf and Guideau. As the synopsis itself states, Ashaf is a soft-spoken man and he's also very level-headed throughout, being meticulous in how he approaches situations. If you're here for sass, then that's Guideau. She's stuck under a curse and that makes her more than a little annoyed, whenever something is sensed by her she pretty much just charges straight into the situation headfirst without thinking – making the two of them a pretty enjoyable pair to witness on the whole.
'Stop whining about a bunch of crazy nonsense. If you want revenge, just take it.'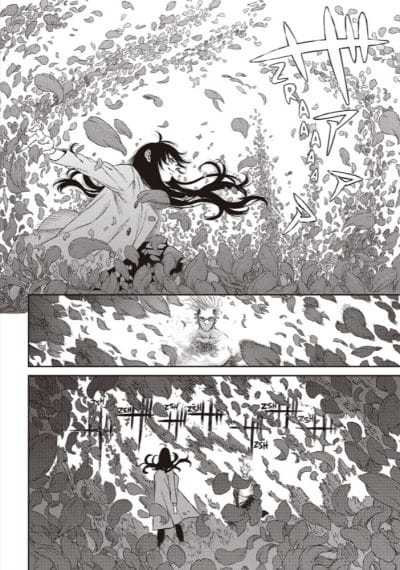 Honestly, Guideau is most definitely my favourite so far. When they aren't in the middle of fights she just oozes stubbornness and coolness simultaneously.
In the world, these two are kind of like mercenaries for hire when it comes to magical issues. Ashaf is content with any job, just glad to help out wherever he can (he's very cute like that) but Guideau is pretty much unhappy unless she's chasing down a witch. It makes sense though, Guideau is locked out of her true form due to a witch and, unless a knight on a white horse gives her true love's kiss, she won't be able to break it unless she finds the one witch who did it to her and gets her to undo it.
Without giving too much away, they end up on a job which does involve a witch but it's steeped in mystery – with no one being able to even catch sight of the witch.
The fact that there's clearly so much more to this job just makes me want the second volume already, and I can't wait to see what happens next! With the books themselves looking beautiful, I don't think I'll be able to stop myself from collecting the physical volumes.

Have you read this?
Feel free to leave a comment or tweet me @LuchiaHoughton!

If you enjoy my content please consider supporting me through any of the following:
♥ Ko-Fi — Bloglovin' — Facebook — Instagram — Twitter — Wishlist ♥
Like this Post? Pin It ♥
Check out more manga reviews here, including reviews for Jujutsu Kaisen, Moriarty the Patriot and more.