The theme for FairyLoot's February 2021 box was What the Future Holds and it contained items inspired by Warcross, Vicious, Red Rising, The Lunar Chronicles and Spin the Dawn.
I wasn't able to subscribe in time for this box, which I was gutted about because the book is one I've raved about recently… but I found someone extremely kind on Facebook who didn't want the box and offered to sell it to me (I am v v grateful to them)! At the end of February though I finally got off the wait list myself, so the next box will be the start of my subscription!
Check out all the items below.
The Book
This month's book was This Golden Flame by Emily Victoria. New to here? I recently absolutely fell in love with this and it's 100% why I was after the box! You can read my review here but it's a great story with automatons, pirates and Ancient Greek influences!
The FairyLoot edition comes with a colour change for the exclusive cover, sprayed edges, exclusive foil embossing on the case, artwork on the reverse of the dust jacket AND is signed! It also comes with an author letter, the reverse featuring character art by @warickaart, who also designed the foil embossing and reverse artwork of the dust jacket.
Synopsis
Orphaned and forced to serve her country's ruling group of scribes, Karis wants nothing more than to find her brother, long ago shipped away. But family bonds don't matter to the Scriptorium, whose sole focus is unlocking the magic of an ancient automaton army.
In her search for her brother, Karis does the seemingly impossible: she awakens a hidden automaton. Intelligent, with a conscience of his own, Alix has no idea why he was made. Or why his father – their nation's greatest traitor – once tried to destroy the automatons.
Suddenly, the Scriptorium isn't just trying to control Karis; it's hunting her. Together with Alix, Karis must find her brother . . . and the secret that's held her country in its power for centuries.
An Ember in the Ashes meets Mask of Shadows in Emily Victoria's #ownvoices debut YA fantasy, an epic adventure full of magic, rebellion, and finding where you truly belong.

Candle
This candle is inspired by The Lunar Chronicles series by Marissa Meyer and I won't lie, I spent a good while smelling it because the scent is perfect! It's an exclusive from @flickthewick.
Fairy Lights
These are super cute crescent moon-shaped fairy lights and I really liked them! They're battery-powered which is definitely better than needing to plug them in to anywhere and I think they'll look adorable when I can hang them up!
Enamel Pin
Inspired by V.E. Schwab's Villains series, this pin is designed by @jezhawk. I haven't read the series yet but I love this quote and the pin is stunning!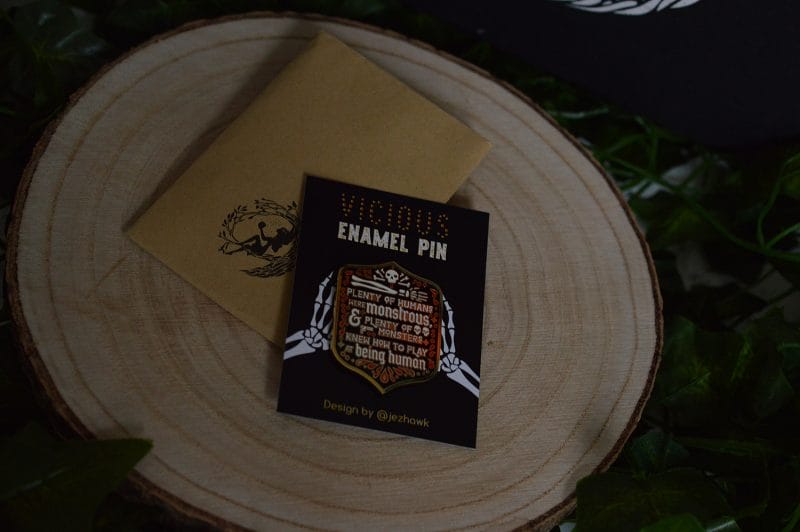 Pillow Case
I don't even want to think about how many pillows I've had from book boxes at this point but this one is another beauty! It's inspired by the Red Rising series from Pierce Brown and the character art is from @lizzart_zardonicz, with the rest of the graphic design and lettering by @chattynora.
Cutlery Set
Okay, I'm on the fence with this. The box features a design of the main character from Warcross by Marie Lu, and is illustrated by @warickaart. The spoon, knife and fork feature quotes from the book too but… Personally I have too many cutlery sets from book boxes, and I don't really need them whilst I'm working from home? The quote has kind of already start to rub off too so… but the box is cute, I might just repurpose it in all honesty!
Tarot Cards
Okay I LOVED Spin the Dawn so I genuinely adore these tarot cards, the character art on them from @arz28 is just beautiful too!

Overall
One thing I've always loved about FairyLoot is their choices in books. It's been very rare that I've read one of their books and disliked it and for me that's the biggest reason why I wanted to resubscribe (still missed out on Kingdom of the Wicked though… still regret that hugely).
I love how they almost always have sprayed edges and the character art that accompanies the books is such a lovely edition!
Overall, the only thing I was unsure on was the cutlery set, but as I said I'd probably just repurpose this anyway since the box itself is super cute!

Next Month – Frozen Fables 💙
From FairyLoot themselves:
'We are so excited to reveal the March theme for our monthly box and it is… FROZEN FABLES!
Have you ever noticed how peaceful the world seems after snowfall? How a hush falls over the landscape whenever it snows? And as beautiful as it may be, do you ever wonder which monsters may be hiding or perhaps resting in the silence…?
In this box you can expect items inspired by The Bear and the Nightingale, Wintersong, Spinning Silver, Wicked Saints, Winterwood and Even The Darkest Stars. We are thrilled to reveal that one of the items in this box is a ceramic mug featuring artwork by the brilliant @monolimeart!
Our featured book of the month is a thrilling story inspired by Russian folklore — this epic tale is set in a wintery backdrop and is filled with fables, romance, tragedy, magic and monsters! We're going all out on customisations again this month and you can expect LOTS of customisations for all of our upcoming boxes too! This edition will have an EXCLUSIVE COVER, SHIMMERY SPRAYED EDGES, ARTWORK ON THE REVERSE OF THE DUST JACKET, FOIL EMBOSSING ON THE CASE and will have CUSTOM ENDPAPERS SIGNED BY THE AUTHOR.'
Okay first up, the current cover for this book is gorgeous so if it's even the slightest bit similar, this book will be stunning.
Living in the UK, I'm pretty excited for the items too because with a theme including frozen it means we'll for sure be getting items that warm us up (this may be wishful thinking as I'm forever cold). A few of the fandoms are high up on my list of books to catch up on too – especially Winterwood and Wicked Saints.
So yeah, overall a box I'm definitely looking forward to!

Do you subscribe to any book boxes?

If you enjoy my content please consider supporting me through any of the following:
♥ Ko-Fi — Bloglovin' — Facebook — Instagram — Twitter — Wishlist ♥
Like this Post? Pin It ♥